About Us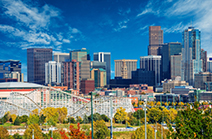 Coming from three generations of native Coloradoan's, we believe this is one of the best places to work and raise a family.
My wife and I have served the Denver area in both business and non-profit work for the past 30 years. And our children are now doing the same.
Providing support for busy families and professionals to spend more time doing what they love is important to us. So, whether it's skiing, biking, hiking or having a family barbeque, the 300 days of sunshine we have here means you have many ways to enjoy your life.
Let us help you with your laundry. You hate it, we love it! In fact, we like it so much, we will pick up your laundry at your home or the location of your choice and deliver back to you within 24 hours, professionally washed, dried and folded. If you are looking for a team of professionals to help you, we are the premier Denver laundry service.
Do you own a business? Then let us do your Denver business laundry. Belong to a church, club or organization that uses laundry for special events? How about part of boys or girls scouts or youth sports teams? We would love to pick up your laundry as well. Complete Laundry Solution is a comprehensive laundry and dry cleaning service. We pride ourselves in delivering to our clients the best service, at a reasonable price. We'll take the hassle out of laundry.
So what are you waiting for? Click on the "Get Started" button at the top-right of this page, or give us a call and start enjoying the rest of your day.