Commercial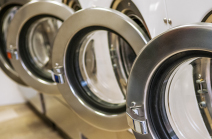 Complete Laundry Solution can provide you with solutions to your commercial laundry needs.
Our on Demand pickup and delivery service puts your schedule and needs as our priority. Our professional staff and commercial equipment ensures that your laundry is washed, dried, folded and delivered back to you fast!
Towels: Hair salons, athletic gyms, restaurants, and much more!


Bedding: Massage Therapy, day care centers, assisted living facilities, and much more!


Uniforms: Employees, medical staff, schools, sports teams, and much more!


Other: Napkins, rags, robes, and much more!


If you do not see your industry listed, please contact us!